This section of our website contains anything that relates to the history of the Minisail.
Follow the links on the left.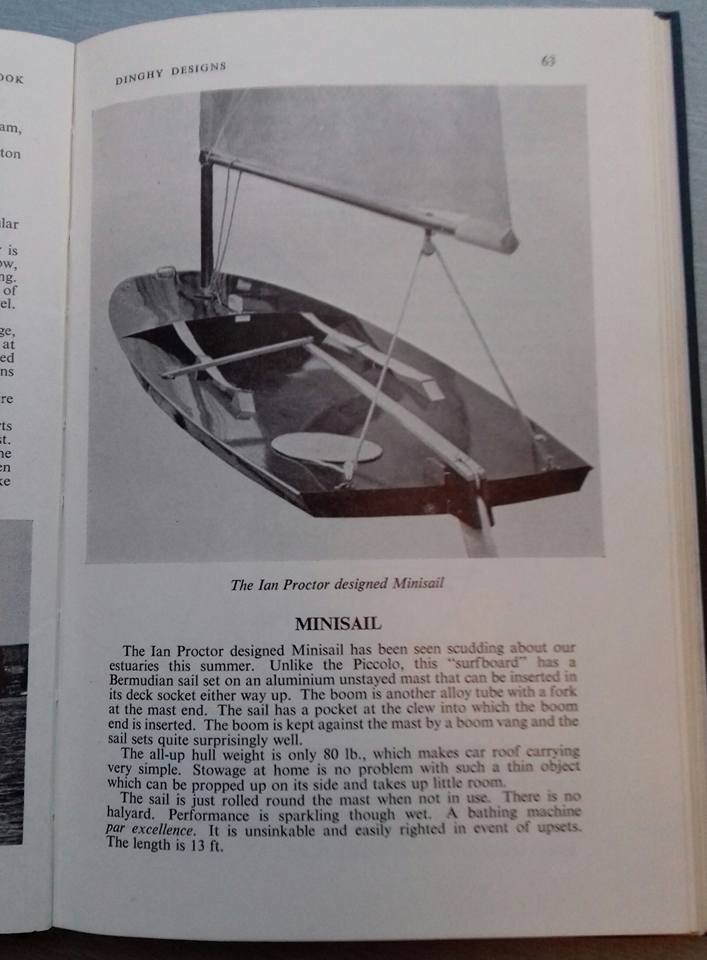 ...And for a bit of first-hand historical content, here is an email from Bob Irwin about the very early days of Minisail building:
"Ahoy there!

I found, while searching for a picture of a 'Mini-sail', the article by David Thorpe on your web site. I imagine David is sailing on the great lake in the sky, because I am 85 and he was about the same age. Anyway, the article mentioned the eight presented to HMS Devonshire, where they were stowed aft in the stream of the ship's engines exhaust. After about five years service they needed some maintenance and came to C.H.I.F. Design Co. Ltd., in Cavendish Road Balham for an overhaul.

At one of the Earl's Court Boat Shows, the Directors of DMD Fibreglass Ltd., approached the Mini-Sail Directors with the idea of making their surfboard in fibreglass instead of wood. An agreement was finally reached once the design specifications had been achieved, which included; maximum weight 100 lb and support two people if waterlogged. DMD Fibreglass Ltd went into liquidation and one of the directors, John Daniels, Joined me at C.H.I.F. Design Co. Ltd., where the manufacture of 'Mini-Sails' was taken over. John and I started manufacturing in a small workshop in Colliers Wood and were delivering 4 or 5 boats each week to David's showroom (in Roehampton?). On the back of the rise in 'Mini-Sail' popularity and sales, we moved to larger premises in Balham. That is where we were when the 'Devonshire' boats caught up with us. We were very impressed with the condition they were in considering their exposure to the exhaust of a destroyer. They needed very little structural attention, it was mainly a face-lift and a touch up of colour, which showed the durability of their fibreglass construction.

Unfortunately Mr. Wilson's credit squeeze in the 60's killed off the boom time for the Mini-Sail, which included the demise of C.H.I.F. and my migration to Australia. I have often wondered what became of the class of sailing boat. I did find David's name on a patent for a piece of sailing boat equipment.

Regards

Charles Aka Bob Irwin."